Residential Electric
Wall Panel Radiators
Overview
Runtal Electric Wall Panel Series are configured to match up with common European design standards, blending into interior placement under windows or on walls where floor space is at a premium. When placed under windows, wall panels help eliminate cold spots and drafts while allowing window treatments to hang properly to the floor. With high output and a slim projection these durable flat tube designs can either accentuate the room architecturely or "disappear" by blending into the existing room interior design. Wall Panels are available in two nominal heights (18″ & 24″) and three lengths (2′, 3′, & 4′). All units are available in 120, 208 and 240-volt configurations to match most electric source applications and can be easily wired for thermostatic control with Runtal's RST WiFi enabled smart thermostat, or any suitable line voltage thermostat. All units are provided with junction box connection at the rear of the radiator.
Crafted using the same welded steel principles as all Runtal heating products, the patent pending electric wall panel series is like no other product available, offering unmatched durability, design beauty and performance.
Durability
These radiators are built to last. One-piece fully welded steel construction and an electrostatically applied advanced powder coat finish ensure years of durability and lasting beauty.
Versatility
By design, Runtal baseboard product offer an endless array of opportunity for installation wherever warmth is needed and can either blend into your architecture or stand out as a central piece of the design.
Simple Installation
Runtal Electric products are simple to install. No plumbing or bulk duct work, simply a dedicated circuit and one power line. (Note: Runtal highly recommends installation by a professional electrician to ensure proper building and safety codes are met.)
Safe & Sanitary Comfort
Runtal Radiators provide soft but effective radiant heat and are constructed with no sharp edges as in the case of traditional baseboard products. Further, the entire smooth surface rejects dust build-up and is easily cleaned.
Heating Capacities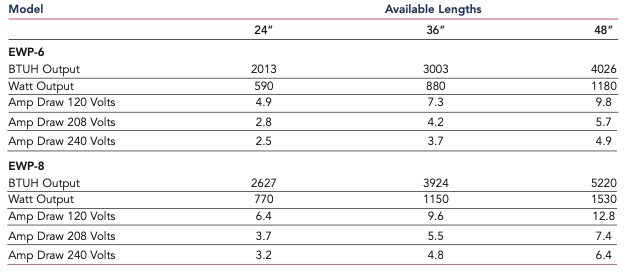 Specifications
Design & Color Options
With a vibrant and varied palette, you can choose a shade that will blend into the background or add an eye-catching focal point to your room. Whether you're decorating a neutral space, or you're eager to inject character and color, there's an ideal match for you.
You can choose from a range of standard colors or pay a little extra for a custom shade for your home. For custom color options please visit our Design Assistance and Custom Products Section where our team can help you find the exact match you are looking for.
Design & Planning
Runtal heating products can blend into a traditional décor, highlight an ultra-modern design, or accent any style in between. From baseboard style, to wall panels, to fancy curves and dramatic room dividers, Runtal manufactures the perfect welded steel radiator for every application. Since Runtal manufactures an almost unlimited selection of sizes, colors, and heat outputs. Runtal is truly a designer's dream. Innovation in architectural detail is no longer held hostage to "old rules" of mechanical heating systems. Imagine the possibilities, confident that the final design will be comfortable and stylish.
Store
Purchase any of our handcrafted stocked Runtal White radiators directly from the factory, for quick delivery, or choose from a variety of 9 standard colors for 2-week delivery.
Design Assistance & Custom Products
Runtal Radiators can be custom designed to fit your exact specifications. Choose from an endless variety of colors, including select metallic finishes. Our experts will assist you with finding the exact size, heat capacity and décor your are looking for.