Overview
RuntalAire™ provides some of the very best air filtration technologies available today, including the patented Flimmer® filter, HEPA, charcoal and Ultra Violet light sanitation. The RuntalAire™ unit also provides continuous measurement and display of the space air quality so you can have complete control of your indoor environment.
Filtration & Purification
Stage 1
The unique Flimmer® filter system, designed and patented by Zehnder, provides the first stage of filtration, capturing airborne particulate via electrostatic fields created by the filter's unique vibrating stimuli. As the first line of defense, the Flimmer® filter captures and retains up to 400% more dust/dander and fine particles than a standard filter, and can last up to eighteen months before replacement is required (dependent on environmental conditions).
Stage 2&3
HEPA and activated carbon filtration further cleanse the air, removing 99.8% of all particulate, down to 2.5 parts per million. Impregnated with activated charcoal, odors caused by microparticulate are neutralized.
Stage 4
Finally, the UV light stage eliminates volatile organic compounds in the air and sterilizes microbes typically responsible for airborne viruses and fungi proliferation.
The Result
Up to 144 CFM of pure, filtered, clean and healthy air is delivered into your indoor living environment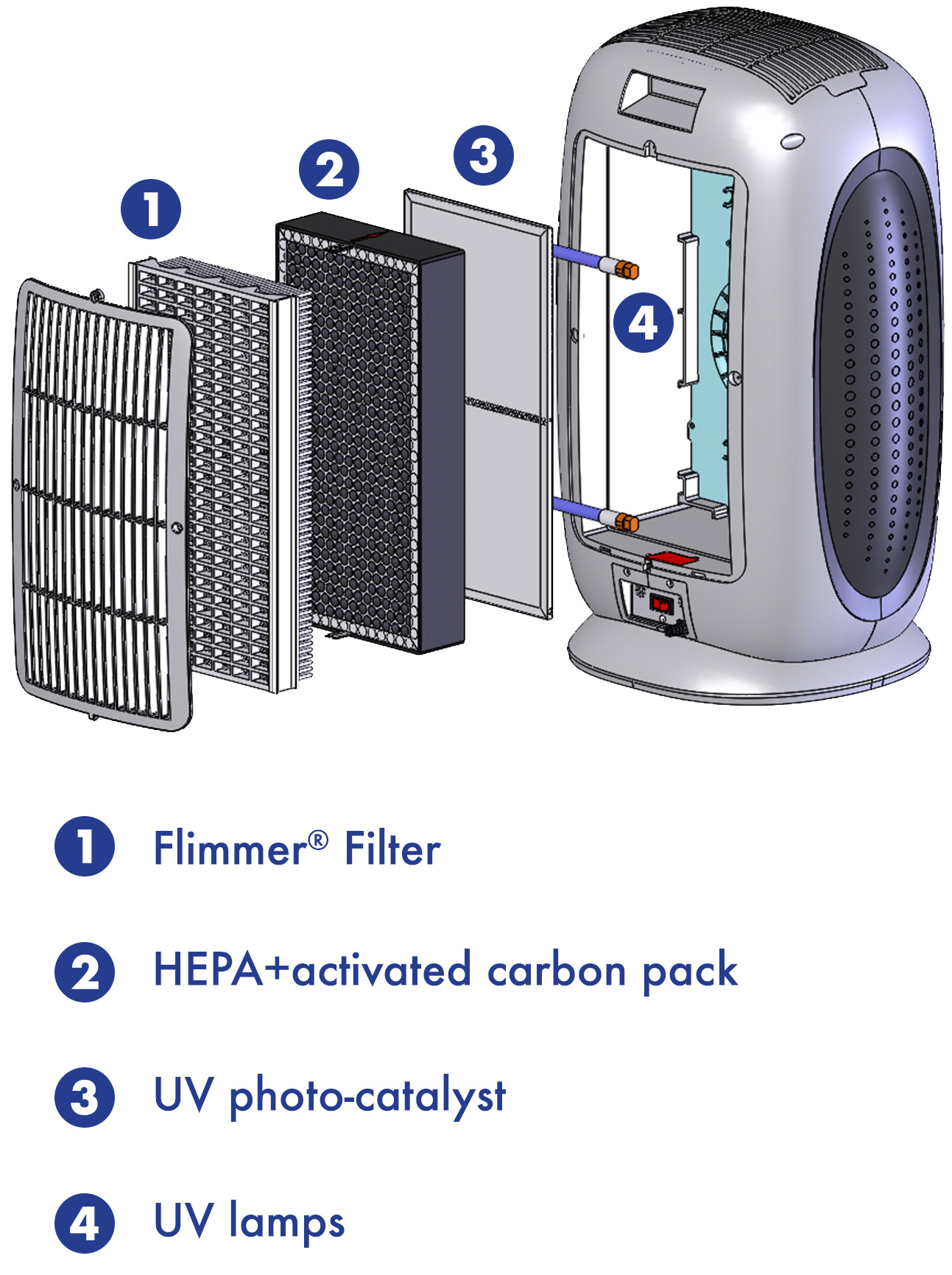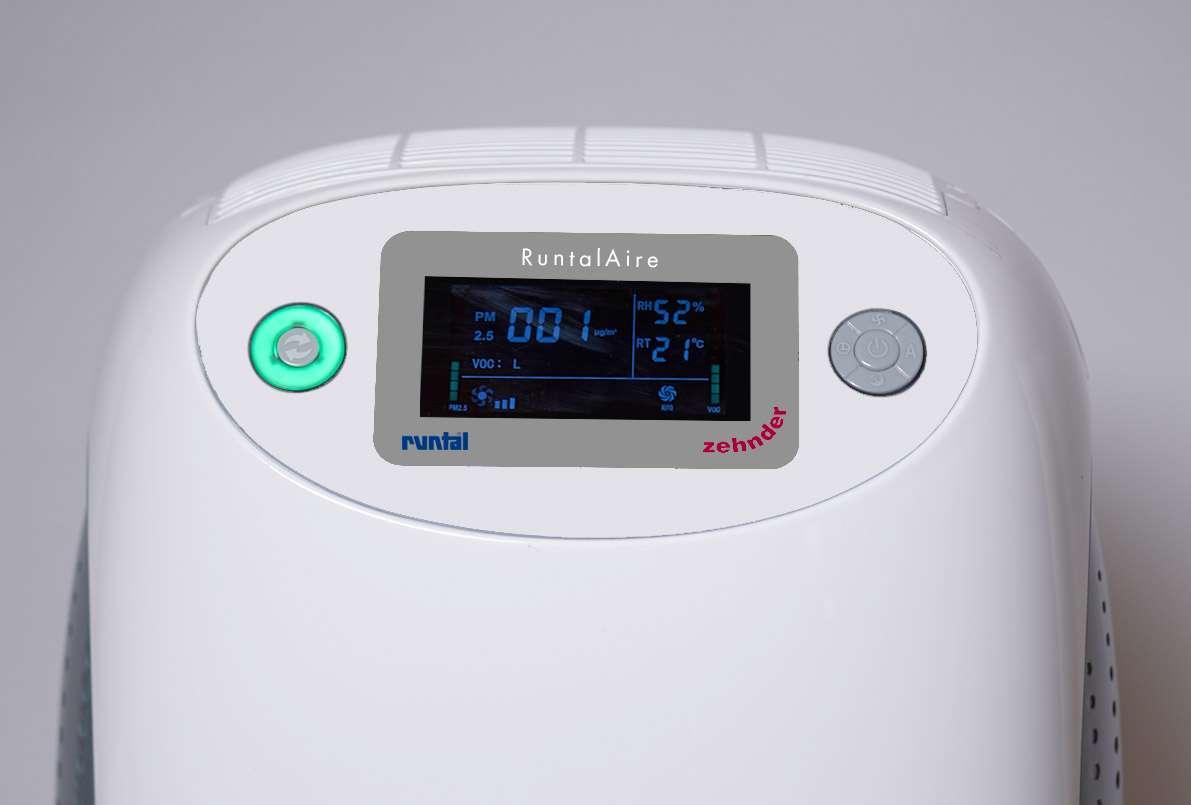 Measurement & Control
The RuntalAire™ unit not only purifies the air, it also provides continuous measurement and display of the room air quality. Built-in sensor technology detects and displays air particulate levels, VOC (Volatile Organic Compounds), temperature, and humidity. If you choose, RuntalAire's™ intelligence monitoring will automatically adjust to maintain the room air quality based on preset purity definitions. Or, you can choose to manually operate the air flow and thus rates of filtration based on your specific requirements. The RuntalAire™ unit will produce a clean air delivery rate (CADR) of 140 CFM when operated on high speed, suitable for multiple applications in the home, school, medical environments, and office space up to 323 square feet.
Zehnder Flimmer® Filtration
The patented Zehnder Flimmer® filter contained in the RuntalAire™ unit provides high efficiency pre-filtration along with a substantially longer effective service life when compared to traditional pleated type filtration. The polypropylene fibers of the Flimmer® filter create an electrostatic charge by rubbing together once air flow is introduced and thereby attract and retain incoming particles. This three-dimensional filter collects particles along the length of the fibers in the same direction as the air flow, ensuring a persistent and constant air flow and pressure drop across the filter's surface, which extends the life of the filter. Further, the Flimmer® filter maintains up to 90% of its particulate capturing capability over its service life, which means virtually full performance vs. typical pleated filters.
Guarantees 100% functionality, saves money and time.
High dust holding capacity
Long service intervals
Constant efficiency over time
Reduced energy consumption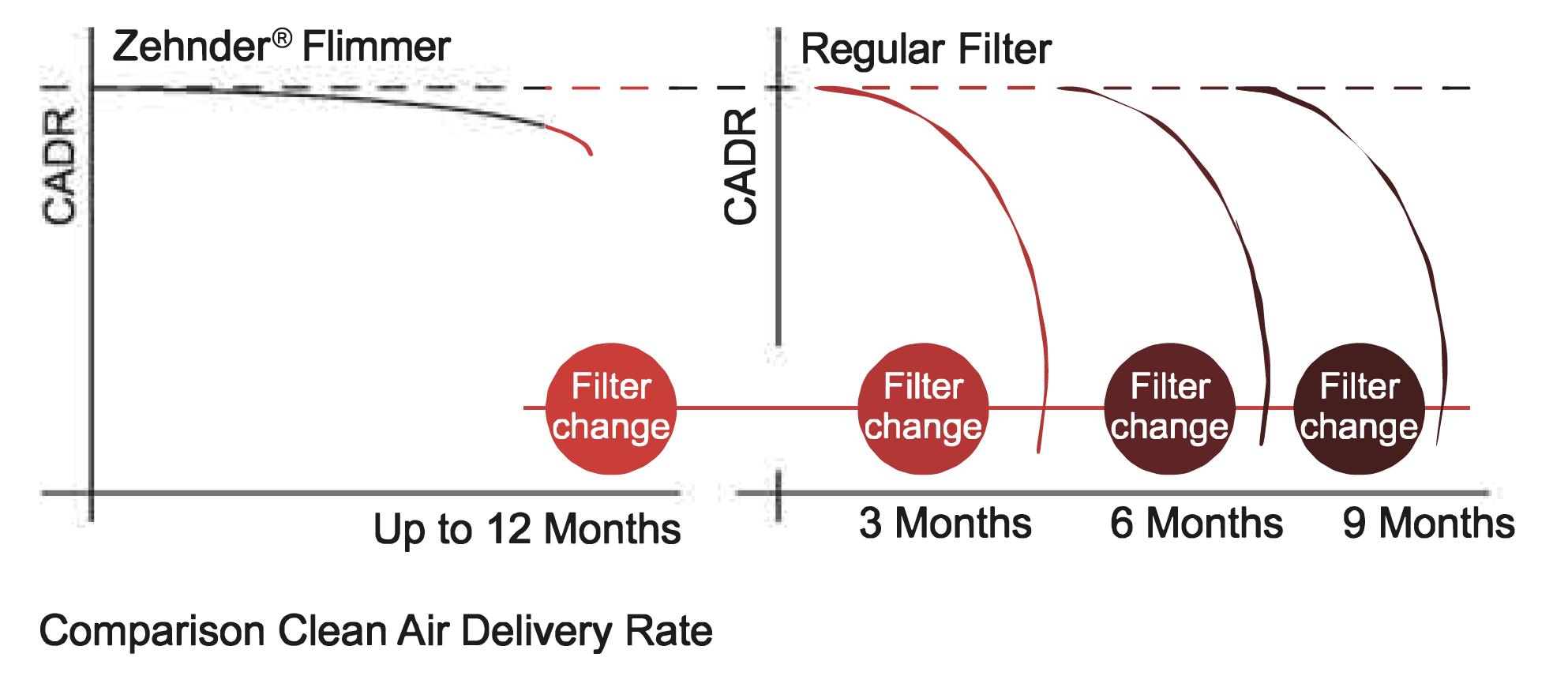 What is PM 2.5 and how does it get into the air?
PM stands for particulate matter (also called particle pollution): the term for a mixture of solid particles and liquid droplets found in the air. Some particles, such as dust, dirt, soot, or smoke, are large enough or dark enough to be seen with the naked eye. Others are so small they can only be detected using an electron microscope.
Particle pollution includes:
PM 10: inhalable particles, with diameters that are generally 10 micrometers and smaller
PM 2.5: fine inhalable particles, with diameters that are generally 2.5 micrometers and smaller
How small is 2.5 micrometers? Think about a single hair from your head. The average human hair is about 70 micrometers in diameter—making it 30 times larger than the largest fine particle.
Sources of PM 2.5
These particles come in many shapes and sizes and can be made up of hundreds of different chemicals. Some are emitted directly from a source, such as construction sites, unpaved roads, fields, smokestacks or fires. Most particles form in the atmosphere as a result of complex reactions of chemicals such as sulfur dioxide and nitrogen oxides, which are pollutants emitted from power plants, industries and automobiles. For more information regarding PM 2.5 and VOC air quality measures, visit the US Environmental Protection Agency.
Introduce your home to luxury air quality from RuntalAire™